This client wanted to open up their kitchen to the rest of the house, to take away all distractions from the eye so that they could be connected to their family when they are cooking. You can see here that we have opened up the kitchen to the living room and installed a ceiling hood to keep the distractions to a minimum.
This is a view from the family room. You can see that there is new seating around the island so that family members can sit and chat while the cook is preparing dinner. We've also significantly increased the storage space with new cabinets.
This wall from the dining room was opened so that there is easy flow from the kitchen to the table in the dining room. Before, the client had to go all the way around the hall to bring the food into the dining room. The pot hanger and the Brevil oven were both items that the client owned and wanted to be incorporated into the final design.
Here you can see the full circle from the dining room into the kitchen. Originally the back wall opening was a wall and the big opening to the foyer was just the size of a doorway. By opening the back wall and taking out most of the front wall, we've really increased the free flow of the entire space.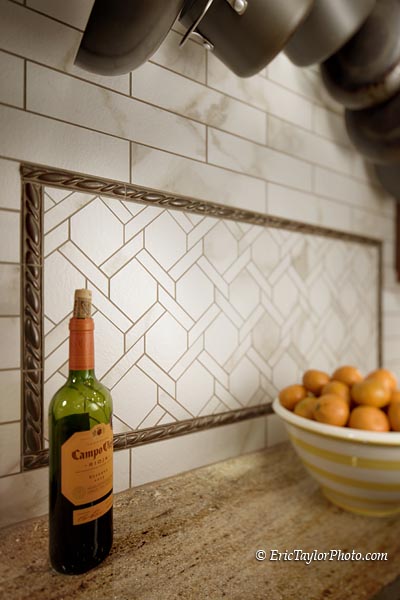 The clients also requested an artistic specially designed backsplash. Don't you think this fits the request?
Please check out the rest of our website for more of our projects and then click the little menu button on the top right of the screen and fill out the contact form. We look forward to hearing from you!